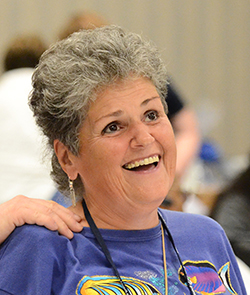 by Denise Colley
Marlaina Lieberg, former ACB secretary and second vice president, passed away in the early hours of May 11, 2018. She was 68. She was born Donna Veno on Oct. 2, 1949 in Boston, and traveled around the country before retiring to Burien, Wash. with her husband and soul mate, Gary Lieberg. Marlaina leaves behind husband Gary Lieberg, brother Joseph Veno, and sister Sandy Smith.
Marlaina was born premature and blind. She was not expected to live, but persevered in making an impact on everyone she met and far beyond. Raised by a mother who believed in Marlaina's capacity to do anything a sighted child could do, she attended public schools, rode bicycles, tap danced and went to summer camp to ride horses.
At age 14, Marlaina became the youngest person at that time to obtain a guide dog. Hubert Humphrey helped outfit her with clothes for the training, and they remained friends until his passing in 1978. Marlaina has been a guide dog user for more than 60 years and has had 9 dogs. In junior high school, Marlaina was told she was not allowed to participate in gym class. After writing an impassioned letter to President Kennedy, the school was directed not to discriminate because of her blindness, and she went to gym class.
These experiences ignited a fiery passion in Marlaina and as a young adult, Marlaina became a fierce advocate and champion for rights for the disabled. Fighting for the rights of disabled people became her lifelong mission, one which she embraced and excelled at beyond what anyone could have expected.
Marlaina held many jobs over the years, including contract work with the National Park Service and the National Forest Service, and also owned her own company.
Marlaina was instrumental in the passing of Americans with Disabilities Act (ADA), testifying before the House and Senate to ensure all people with all disabilities were included in the laws. Marlaina lobbied Congress every year with the American Council of the Blind (ACB) to continue awareness and improve laws. In 2008 as the secretary of the ACB she represented the organization at the World Blind Union Conference in Geneva, Switzerland. Marlaina was a force to be reckoned with. She worked tirelessly to educate and improve the lives of all people with disabilities and discriminated against none. She is widely known and renowned in the blind and disabled communities as a fearless fighter and true champion.
Gary and Marlaina met, fell in love and married in Alexandria, Va. in 1997. In 2012 they moved to the Seattle area where Marlaina continued her work at a record pace. She worked with Wells Fargo to create accessible ATMs, Albertson's to create an accessible website for online grocery ordering, Starbucks in creating braille gift cards, Trader Joe's for accessible PIN pads, Apple to improve their VoiceOver, to consulting with Microsoft and the Accessibility Team instructing them on what to focus on when creating accessible software. These are just a few examples.
Perhaps one of her most noted and accomplishments, one that would become key in helping her manage her life in the last years, is the advocacy work she and partner Sue Ammeter did to create accessible pill bottles so she could remain independent in dispensing the medications she needed.
Marlaina was active in too many organizations to list. From the Lions Club to becoming an honored member of UW Delta Gamma Fraternity, she always found time for important causes. Marlaina obtained her ham radio license, and Gary built a radio station studio in their house. She had her own show on ACB Radio, and every Sunday night she would discuss issues important to the blind community and interview others. For 10 years Marlaina and her audience enjoyed such interviews with great people like Ronnie Milsap, Dave Neihaus and Erik Weihenmayer — the first blind man to climb Everest.
Marlaina flew a plane, she drove a car, she hiked on trails, she took subways, went to her beloved Mariners games, attended inaugurations, concerts, and sang on stage with Stevie Wonder. Marlaina loved to sing! She spoke to thousands, she spoke to one. She loved sitting in the sun sipping wine and telling stories. She loved dressing up and had a huge shoe collection. Marlaina was as classy as they come, inside and out.
In 2012 Gary and Marlaina moved to Burien Town Square. This vibrant community embraced them both and gave Marlaina the independence she had been craving her entire adult life. After petitioning the city to install accessible crosswalks and wheelchair-friendly sidewalks, Marlaina was now finally free to walk to any restaurant, nail salon or pet store when she pleased. The entire community recognized Marlaina and her guide dog. She was somewhat of a local celebrity and greeted everyone with a hug and smile. She never forgot a voice and would shock people by remembering their names.
She educated everyone she met on the importance of her guide dog to her independence. She taught so many so much. Her love and light was bright and fierce until the last days. Marlaina leaves behind a huge number of friends who feel the loss of her presence daily.
A memorial service was held at St. Francis of Assisi in Burien at on May 15th. In lieu of flowers, the family requests that donations be made in Marlaina's name to Guide Dogs for the Blind, www.guidedogs.com/support-gdb/donate/honor-memorial-giving.