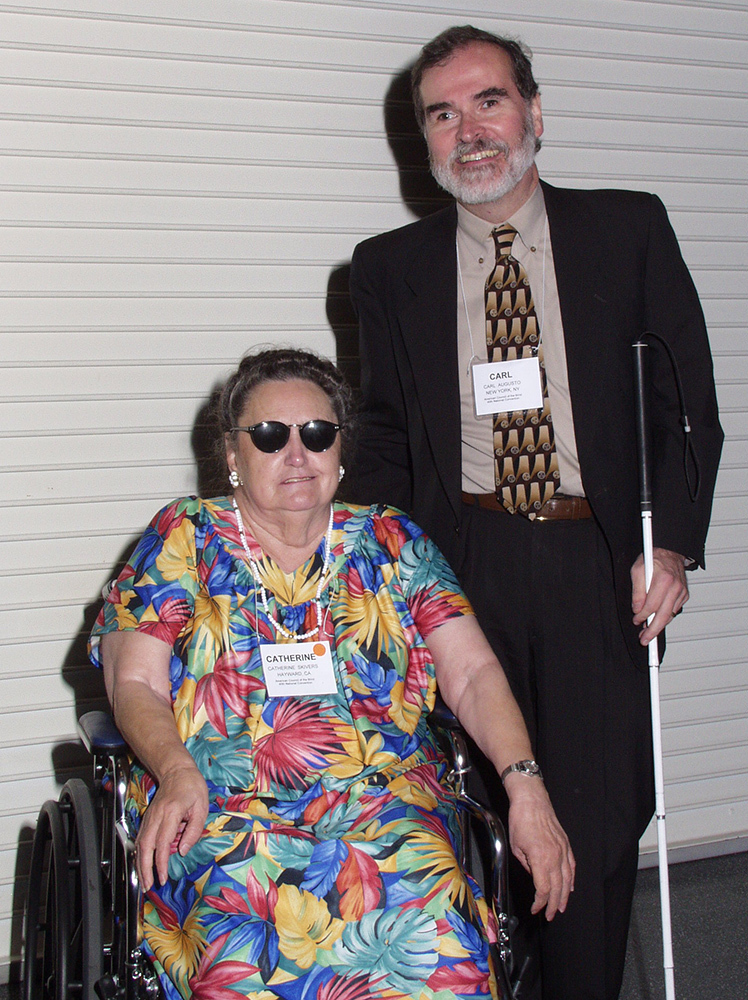 (Reprinted from "The East Bay Times," Dec. 22, 2019.)
Catherine Skivers, blind community leader, mother, grandmother, friend, and mentor, died on Dec. 12, 2019, at the age of 94. Born in St. Louis, Mo. on May 2, 1925, Catherine, known to friends as Cathie and her family as Mom or Grandma, moved to the San Francisco Bay Area in 1949. She made her home in Hayward for over 60 years.
For 70 years, Cathie advocated at the local, state and national levels for better lives and equal opportunities for people with vision loss. She began as a leader in the American Council of the Blind at a time when few women, blind or sighted, worked in leadership roles, serving as president of the California Council of the Blind and her local chapter. Her sons Eric and Darryl became extensions of Cathie, providing transportation for other members to meetings and club functions. She became a mentor for many women and men throughout the nation who were blind or had low vision. She was extremely proud of her efforts to provide assistance to the blind and visually impaired. She played a pivotal role in advocacy efforts, including one leading to some of the nation's first talking ATMs that gave blind people independent access to their own money.
To Cathie, Americans who are blind or had low vision were part of her extended family. She received numerous awards for her work, but was always thinking about the next mountain to climb on behalf of people who were blind or had low vision. In 2018, the San Francisco LightHouse for the Blind and Visually Impaired honored her with the Newel Perry Award for enduring and effective leadership in the blind community.
Cathie was among the first blind IRS tax service specialists in the United States. She retired after 17 years working at the Oakland office of the IRS.
Catherine Skivers was predeceased by her parents, Lucille Glenn and Sylvester Winchell, husband Jack Skivers and son Grant Skivers. She is survived by her children Gary Swartz, Donald Swartz (Diane), Darryl Skivers and Eric Skivers (Connie), six grandchildren and several great-grandchildren.
In addition to her family and members of the blind community across the country, Cathie loved reading and music. She learned to read and write braille as a young child and always had a large stack of braille by her side. She was always a strong advocate for braille literacy. For several years after she first moved to California, Cathie was a professional pianist, and played for friends and family throughout her life.
Services will be private, with a Celebration of Life to be held at a later date. In lieu of flowers, donations in memory of Catherine Skivers may be made to the Bayview Chapter of the California Council of the Blind, c/o Mrs. Lori Castner, 750 Oakland Ave., Unit 101, Oakland, CA 94611.