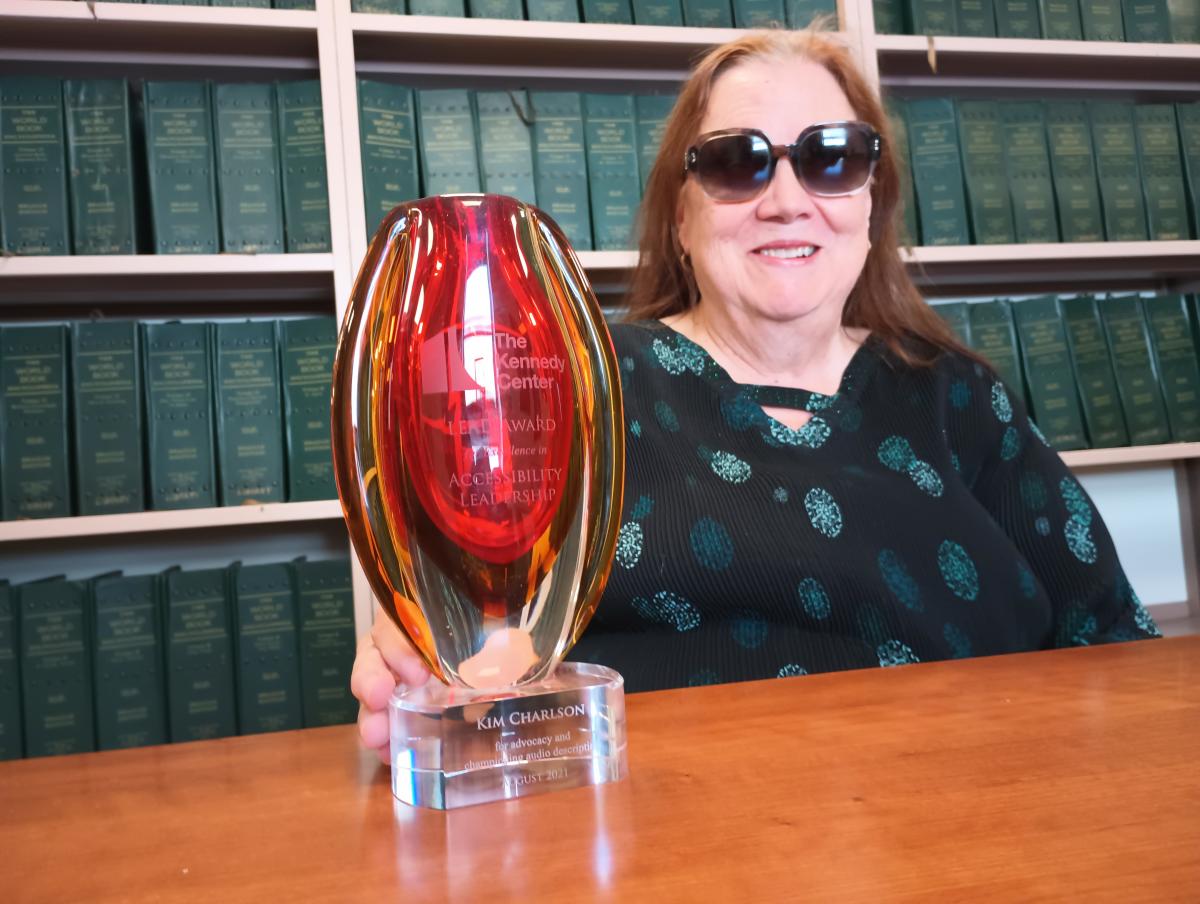 The John F. Kennedy Center for the Performing Arts Leadership Exchange in Arts and Disability (LEAD) Awards honor a select few arts administrators, individuals and organizations whose dedication has resulted in the advancement of inclusion of people with disabilities in the cultural arts and whose efforts serve as an example to all in the field. 
Kim Charlson was selected out of a diverse pool of nominees to receive a John F. Kennedy Center for the Performing Arts Award for Excellence in Accessibility Leadership at the organization's Leadership Exchange in Arts and Disability (LEAD) conference held in Raleigh, NC, in early August, 2022. The Award for Excellence in Accessibility Leadership recognizes a lifetime of achievement in arts access, and was presented to Kim for her avid championing of audio description and life-long accessibility advocacy.
Kim serves as the Executive Director of the Braille & Talking Book Library, located on the campus of the world renown Perkins School for the Blind in Watertown, Massachusetts. She is a recognized national and international expert on accessible library and information services, braille literacy, arts access, assistive technology, civil rights issues, and audio description.
She has served as a member of the Braille Authority of North America, the standard-setting body for braille in the United States and Canada. She served from 2013-2019 as the first woman president of the American Council of the Blind (ACB), and she is currently the president of the North America-Caribbean region of the World Blind Union.
She is particularly active in the audio description space serving as the Co-Chair of the ACB Audio Description Project, as a Boston area audio description consultant to theaters and museums, she serves on the Museum of Science Boston's Disability Advisory Committee, and she is the chair of the ACVREP Subject Matter Experts Committee developing a certification for audio description professionals.
In addition to her many other responsibilities, she is a contributing author to the book, Making Theatre Accessible: A Guide to Audio Description in the Performing Arts, published by Northeastern University Press, and she is the author of Drawing with Your Perkins Brailler, an instructional book for using braille to create tactile pictures that blind children and adults can share with sighted family and friends. In June 2019, Kim received the Francis Joseph Campbell Award from the American Library Association's division of Specialized and Cooperative Government Library Agencies – one of the highest honors the ALA bestows. 
Kim recounts that one of her first experiences with audio description goes fairly far back to the earliest days of description for television. In 1986, she assisted WGBH in bringing together a small group of blind consumers to watch the first pilot of a PBS program with audio description. "There were about ten of us in the room, and at the end of the program, you could have heard a pin drop … we were all speechless, and then we all started talking at once. There was so much excitement about how we all could understand the program we just watched; that we didn't have to ask anyone else to tell us what was happening; and that, in fact, we knew and remembered better what took place than the sighted audience members. It was pure magic, and I haven't stopped advocating and working for audio description in all of its forms since that time."
John F. Kennedy Center for the Performing Arts & LEAD
As an integral part of the Kennedy Center's Access/VSA International Network, the Leadership Exchange in Arts and Disability (LEAD) program advances the full inclusion of people with disabilities in arts and culture. With a focus on expanding the breadth and scope of accessible programming, LEAD provides an opportunity for professionals in the field to develop best practices and resources; engage in conversations with colleagues and experts from around the world; and learn practical methods for designing inclusive arts experiences and environments.
Contact Kim Charlson
Email – [email protected]