Reprinted from "The Yamhill Valley News-Register"
Storyteller and author John Dashney, who grew up in McMinnville, Ore., died Feb. 22, 2019. He was 76.
Dashney was born in 1942 to longtime McMinnville residents William and Caroyl Dashney. He went to Memorial Elementary School, graduated from McMinnville High School and received bachelor's and master's degrees from the University of Oregon.
Dashney, who was legally blind, became a storyteller in the late 1970s. He visited McMinnville schools many times over the years to tell his original tales to children; he also told stories across the U.S. and in other countries.
He wrote several children's books, including "Great Big Galloping Catfish," "The King of Messy Potatoes" and "Summer of the Hunters."
 During one of his last visits to local schools, Dashney told stories at Sue Buel Elementary in 2010. He explained how he progressed from speaking to writing.
"My stories got longer and longer, so I thought, 'This could be a book,'" he said. He told Sue Buel students he still loved to tell stories, performing them from memory with a great deal of expression.
Dashney is survived by his son, Braden Dashney, granddaughter Violet Dashney, and former wife Judy Dashney.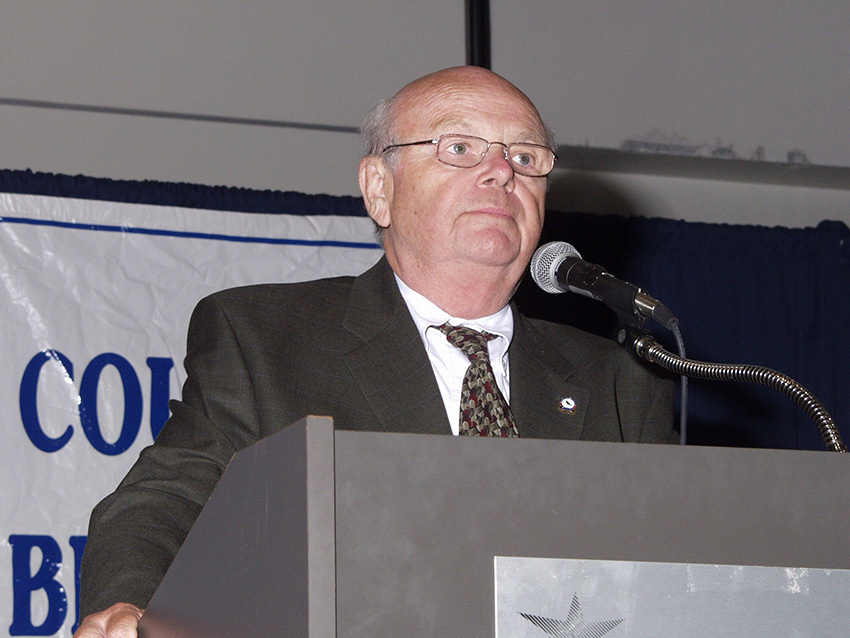 ---
Friends-in-Art Remembers John Dashney
I first met John Dashney when I first joined Friends-in-Art of ACB in 1985. I remember how amazed I was at his performance talent as well as the quality of his writing. He and I also both contributed to Si FI See, a recorded science fiction magazine, published by some blind ACB members back in the '80s. (John did not write hard science fiction, but his talent for fantasy and whimsy was unparalleled.)
What I remember most about him was what a truly nice mentor he was, encouraging other blind and visually impaired peers to look at the arts as a vocation or avocation. He respected all blind and visually impaired artists, both amateur and professional.
A few years later, in the early 1990s, I invited John to be the national speaker/entertainer at our state affiliate convention. Our convention was in Great Bend, Kan. that year, which is a long ride across the Kansas prairie from anywhere airplanes land. John got to ride across a goodly piece of Kansas with a van full of local blind and low-vision folks, and it was one of the most pleasant and entertaining cross-state trips I have ever taken. When we got to Great Bend, some folks in our local chapter said that it was too bad we had not scheduled John to entertain at some of the local schools. Arrangements were quickly made, and before John could get his land legs under him, he was whisked off to entertain the third-grade classes at a Great Bend elementary school. He was then whisked back to the hotel to entertain at our banquet. John was in his element. He loved it, and his great spirit was infectious.
I have continued to admire John and his wonderful written works and presentational talents throughout the remainder of our lives together as fellow ACB and FIA members. John had the great ability to be relevant and funny without needing vulgarity or off-color references. One of the great things about his work is that he will be able to present it before the good Lord him- or herself at some of his/her social events, and that is a good thing. With all of the tough stuff the great deity has to ride herd over, he/she probably needs a good laugh or two, which John will be able to provide.

— Michael Byington
Storytelling is becoming a lost skill, and John was a really good storyteller.

— Peter Altschul
Anyone who ever heard John tell his stories will agree with that statement. John shared these unique, humorous and unforgettable tales in venues throughout the world, through his performances on FIA Showcases, and on cassette and CD recordings which have now become treasures to those who own them. In addition to recordings, John was the author of several books for children and adults. Armed with his materials in audible and print formats, he was a fixture at the FIA table in the exhibit hall. My late husband and I had the pleasure of working at the FIA table with John, and were thus able to observe him in action as he dealt with his adoring fans who always flocked to the table to make a purchase, or just talk. Ever friendly and courteous, he often went out of his way to provide assistance to us, or to help someone locate another exhibitor. He always included a personalized autograph on any of his merchandise. In his presence and through his stories, John shared his wisdom, his selfless nature, and his unparalleled sense of humor. In his memory, may we all strive to do the same.

— Lynn Hedl