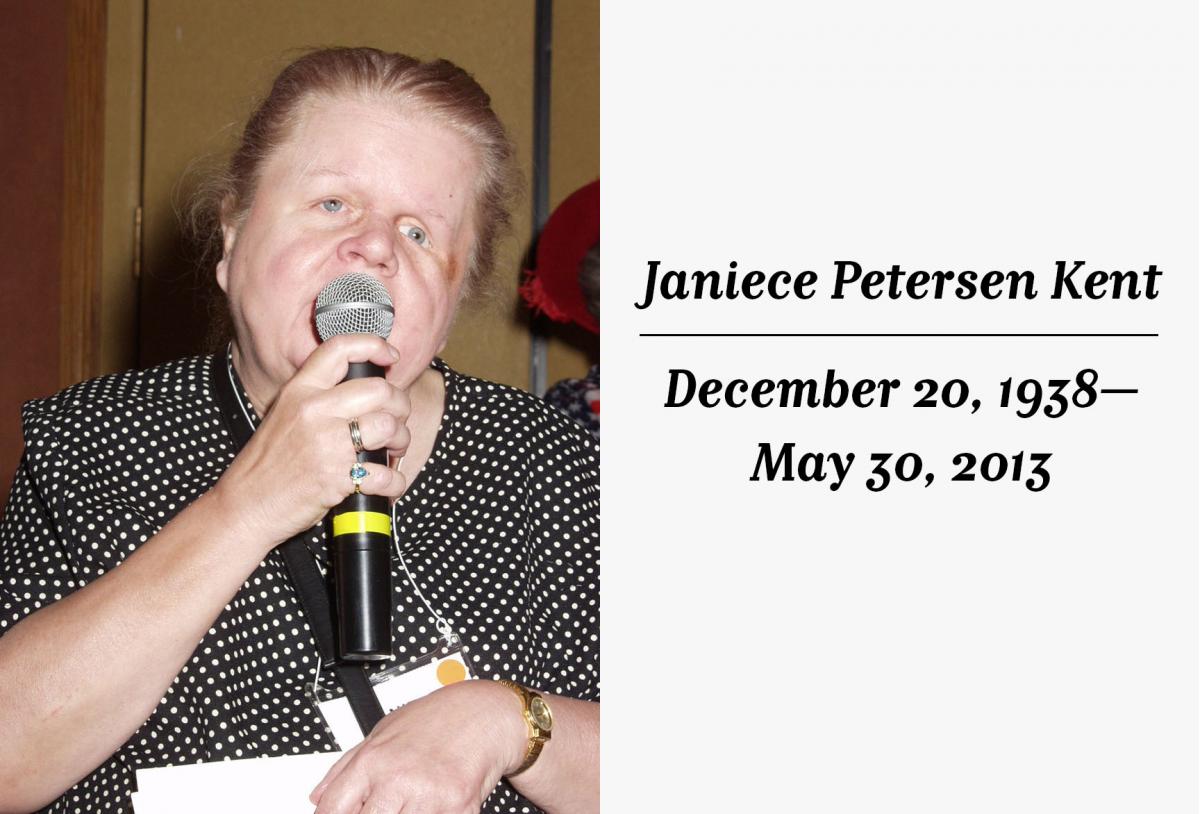 Janiece Petersen Kent: Gentle Giant
December 20, 1938-May 30, 2013
By Sandra Sermons
 
To tell you the truth, I still can't believe that Janiece is gone. I am sitting at my computer trying to think of some words that would capture who she was. I guess what I'll say is that she was amazing, as a person and as a friend, as an ACB member. Her contributions are enormous. She was a lifelong teacher. Whether it was music, English, braille, or cooking, she never missed an opportunity to teach. Not just in the conventional sense either. She was one of those quirky people who could teach you a lesson before you realized you learned something. Her promotion of braille was tireless, not just braille in of itself but its uses, the level of independence it gave, blind people who knew it. And as a braille teacher for the D.C. Public Schools, she imparted that along with other blindness skills to her students. Whether it was having scavenger hunts with braille clues or fixing lunches that rivaled the cafeteria's, she made a contribution. Then there was DCCB, she was the president for several years and was chair of some of the best Christmas parties that DCCB has known.  Then there was Janiece the friend. She always listened with an open mind and ear and never hesitated to encourage me even if the position I took was unpopular. She also had no problems whatsoever calling me out on my nonsense. Most memorable was her insistence that I could not wear jeans everywhere I went. She introduced me to musicals, other musicals besides "Les Miserables," which was then and still is my all-time favorite. One day, the lead actress for "Beauty and the Beast," which was playing in the Kennedy Center, came into the restaurant where Janiece worked at the time and offered her backstage passes. She shared them with me and we ended up meeting the entire cast! These are just a few of my fondest memories of Janiece and we hope that while she may have departed this earth she is not forgotten and most probably is convening a grade three braille class in heaven.
 
How One Artist Got Heard
 
Since 1985, I have been a member of the American Council of the Blind (ACB), whose mission is to improve living conditions for people with visual impairments. Several years later, I joined Friends-in-Art (FIA), a small group of blind musicians, writers, sculptors, painters, and others who try to advance accessibility and opportunity for artists and audience members who are visually impaired. We encourage museums to become more blind-friendly and work with designers of popular music-related hardware and software to make their products more user-friendly for blind musicians. We also conduct several workshops at ACB's annual national conventions, as well as putting on a popular variety show known as the Showcase of the Performing Arts.
Over time, I became acquainted with Janiece Kent, a talented pianist/vocalist with a special affinity for show tunes and operetta arias; a gifted poet; a teacher of braille to blind students in the Washington, DC school system; a tireless advocate — and a founding member of FIA. She died peacefully in 2013 after a year-long battle with cancer.
In the late 1990s, I moved to an apartment in Washington, D.C. about a mile from Janiece. My guide dogs and I spent many happy afternoons and evenings with her and Gordon, her future husband, in their apartment. She was a gracious and unassuming host with kind words, a listening ear, and a sense of humor that often caught me by surprise. She also sang the women's parts when I recorded demos of my music in Gordon's studio, often singing them correctly on the first take despite not having the time to review the material beforehand.
Janiece played a pivotal role in my courtship of my wife, Lisa. I sang to Lisa and others attending a FIA showcase Stephen Sondheim's "Not While I'm Around" with her accompanying on the piano. Lisa and I heard her perform several times at the Old Europe, a German restaurant near my DC apartment. And she teamed with Gordon to sing two Broadway show tunes at our wedding, causing many people to turn in their seats expecting a recording but seeing live performers instead.
However, I will especially remember Janiece's unique approach to making herself heard during meetings. She was no longer FIA's president when I joined the board, but she was always present with perceptive comments and wise suggestions … if we gave her the space. And giving her that space took some practice, especially when we were under pressure to create a program for the annual Showcase in ninety minutes after listening to auditions over a three-hour period. Her quiet but distinct "excuse me," coupled with her clearing her throat, would attempt to change the tone of the rapid, impatient conversation in which the rest of us were engaged. If we didn't give her the chance to speak, she might or might not try to interrupt us again several seconds later. If she got our attention, she would clear her throat again, pause, and then make her comment in a quiet, slow voice. If she didn't get our attention, we lost the benefit of her wisdom. Over time, I learned to listen for her gentle but insistent cue that she wanted to say something.
So thanks, Janiece, for your gracious hospitality. Thanks for your wonderful music, your love of poetry, and your enthusiasm for everything artistic. Thanks for your efforts to make museums, concerts, and films more friendly to us blind people. Thanks for doing such a terrific job teaching braille to blind kids in the wildly dysfunctional DC public school system. Thanks for assisting me to become a better teacher and leader.   And thanks for showing us that friendship can produce not just great art but also positive change in the world around us. 
— Peter Altschul, Columbia, MO
 
To me, Janiece was a quiet, gentle, angelic soul who expressed her unique inner beauty in notes of piano music that flowed like a gentle country stream, her sweet and almost haunting singing which gave any lyrics which flowed from her voice a new vitality that they had never known before, and her wondering lines of poetry delivered with hesitant gentleness but quiet resolve.  To me, she was always the Queen of FIA, always there at the door of the FIA Suite Palace to welcome me or anyone else who would come along.  She was a great listener, comforter and friend.  For me, her gentle voice could chase away any fear or sadness.  I can only imagine what a wonderful, compassionate and patient braille teacher she was.  I am sure that the children that she taught loved her.  Knowing that she will never attend another ACB convention makes me feel very sad and empty, but I also know that part of her will always be with each of us at the FIA Showcase, in the prose and poetry reading, in the writers' workshop, in the FIA Suite, and in other places as we live our daily lives.  She has touched so many of us in so many ways which words cannot express, but perhaps our prose, poetry, music and art may be able to help us to express how we feel about our very special friend.  She has been an encouragement to so many of us here, and I am sure that she is now entertaining, teaching and encouraging those who are in heaven.
— Carla Hayes, McMurray, PA
 
I feel as if an extremely important piece of my personal history with ACB is now missing. In 1985, I attended the first ACB national convention I had gone to after a many year break of attending the conventions. The last time I had been to an ACB national convention before that, there was no FIA. I had followed with great interest the creation and development of FIA through ACB publications and some FIA publications I had gotten. After I arrived and looked at the program for the 1985 convention, the first event I went to was an FIA board meeting, and the first person I met there was Janiece. She made me feel so welcome and so much that I was exactly where I belonged, that both she and FIA have been fast and great friends of mine ever sense.  I believe that it was 1989 or 1990 that I was selected to serve on a committee from Kansas doing a workshop at the International Very Special Arts Festival in Washington, D.C. It was a kind of a fluke that I ended up helping with this workshop in that most of the other presenters were Kansas-based special educators who were not in the blindness field, and whom I did not know very well. Once I got to the event, however, I happened to run into Janiece. Needless to say, as a local professional performing artist living in Washington, D.C., Janiece knew all of the Kennedy Center folks involved with Very Special Arts quite well. She had performed at several private parties hosted by Ted Kennedy, and when Jean Kennedy, mother to a president, and multiple senators would see Janiece in the halls of the Kennedy Center, Jean would always stop with a friendly hello for Janiece. When I had the honor of running around the national festival with Janiece, I felt as if I had the honor to accompany royalty. My workshop was off in some basement alcove of the Kennedy Center. Janiece, of course, performed on one of the main stages.  We went to the culminating event together, which was a nationally televised event. Some other local friends of Janiece were also with us, including the executive director of Very Special Arts, Washington, D.C. After the televised show was over, we ran into Jean Kennedy again, and she recognized both Janiece and the Washington, D.C. program director. Jean invited us to attend an exclusive reception for the national television performers and invited guests. She gave us a handwritten note with her signature to get us in.  Janiece thus gave me one of my most vivid sets of life memories. I know realistically that Janiece, though one of the most talented performers I have ever known, spent many, many work-a-day days teaching in challenging schools with some very challenged students, with whom she was exponentially successful. Her life was not constantly made up of the glamour and glitz we experienced that evening any more than mine has been made up of such things, but Janiece was so talented, not only in the musical arts, but in her poise and graciousness, that she occasionally got to step into that world of the top echelon of artists. On one occasion, she was able to share the experience with this hick drama therapist and parody song writer from Kansas. I admired and deeply appreciated Janiece because of who she was in all of the different venues in which she worked, but I will always remember with great fondness that she shared a little bit of the magic of her accolades in the arts with me.
— Michael Byington, Topeka, KS
 
Nancy Pendegraph and I have been best friends since high school, and among other things, have shared our great love for music throughout the years.  Since we started attending ACB conventions in the '80s, we have been active in FIA, participating in the annual showcase, and working in some capacity on the board.  Needless to say, that brought us in frequent contact with Janiece, and because of our immediate love for her and our common interests, we three became fast friends.  Through the years we knew and worked with her, we accumulated far too many fond memories to recount here, and I know that neither of us will ever forget any of them.  Janiece always came to convention fully loaded with Braille labeling supplies, and would often call us to remind us to bring some extra labeling tools, so we could make labels for all the CDs we used to sell in the exhibit booth.  When we weren't making labels, we were working on our Showcase numbers for that year, or singing through parts for the chorus.  Between conventions, we kept in close touch, and when Janiece would come to visit Nancy, or when Nancy would visit me here in Birmingham, there would be three-hour late evening chats on the phone.  I don't remember when we began to exchange Christmas gifts, but they usually involved something musical, some type of alcohol-laced chocolate, or something to wear.  Each of us tried to outdo the others in originality and uniqueness, but we all received things to enjoy and treasure.  Nancy and I agree, however, that by far the greatest treasure she gave us was herself.  She was truly our sister in spirit, and she will always remain so in our hearts.
— Lynn Hedl, Birmingham, AL
 
It is ironic that Janiece has left us as our D.C. affiliate approaches the celebration of its 100th anniversary.  I met Janiece way back in the mid-'70s and knew her to be a stalwart advocate, especially for blind children.  The best job of hosting the FIA Showcase were the times when Peter and Janiece emceed.  Ms. Kent will definitely be missed.
— Mitch Pomerantz, Pasadena, CA
 
I have so many fond memories of Janiece. She never hesitated to accompany me to see "Les Miserables," even if it was for the hundredth time.  She is a teacher at heart.  Right now, I know that she is in heaven, asking God if he knows grade 3 braille.  And guess what? If he doesn't, I can't think of any better teacher than her.  Rest in peace, my beloved friend.
— Sandra Sermons, Rockville, MD 
 
I will remember Janiece, a former Illinoisan, as a passionate advocate for people who are blind in the arts.  By her performing in public in D.C., she proved that people who are blind can be out there, providing entertainment to those who are interested.  I suspect that there are many who have followed in her lead, aspiring to get out there and perform that neither Janiece nor her family will ever know that she encouraged.  Janiece went about her work with quiet determination.  While I never saw her as one of these people who would give a fire and brimstone kind of speech on an issue, you knew she was passionate about what she believed and would work her tail off for it, especially in the performing arts.
— Ray Campbell, Glen Ellyn, IL
 
I worked with Janiece for many years on the poetry workshop for FIA.  She wrote beautiful and lyrical poetry.  She sang like an angel, and I know she is now up there with the heavenly choir.  I also saw her perform at the little German restaurant where she worked for a long time, when I lived in D.C. in 1999.  She was kind, committed and very smart.
— Teddie-Joy Remhild, Burbank, CA
 
I knew Janiece was very ill, but I had no idea she had been battling cancer.  I had the pleasure of meeting Janiece at my first ACB convention, in 1978 in Utah. She introduced me to NABT, and we shared our passion for braille literacy for blind children and adults alike. She was very active in NABT as well as FIA. I will always remember her friendship, thoughtful comments and insights, sense of humor, and that glorious singing voice.
— Marcia Dresser, Reading, MA
Janiece and I were together from 1971 to 1985, so we had a substantial influence on each other's lives. In 1971, she was still kind of in the folk music thing, doing some performing with Tom Bickford as "Tommy and Jay." Anyone remember in NFB Tommy and Jay led the singing in the contest that resulted in the choice of "Glory, Glory Federation" as the official NFB song? That, incidentally, was known as "Sing and Say with Tommy and Jay." Together, we moved forward musically into traditional American popular songs and her resuming studying piano and beginning to perform professionally.  Together we had our adventures, Hawaii in 1972 and Europe in 1974, where we attended the International Federation of the Blind convention in Berlin. We transitioned together from NFB to ACB and started doing some impromptu singing around the piano, which led to Friends-in-Art.  We have kept in touch over the years. We always had a meal together at the ACB convention and we talked on the phone occasionally. I spoke with her last on New Year's Eve.  I join with the rest of you in remembering and missing her.
— Roger Petersen, Mountain View, CA
 
Janiece could play any song you requested and knew most of the words too. It was great to hear her when I visited D.C. She was always an inspiration. We'll all miss her.
— Ardis Bazyn, Burbank, CA
 
I spent some very happy hours in Janiece's welcoming apartment when I briefly served on the board of DCCB a few years ago.  I can remember struggling to read braille aloud at several of those get-togethers and how supportive Janiece — a superior braille teacher — was, not allowing me for a minute to feel embarrassed about my laborious braille reading as a recent learner of braille.  I'm sure that every one of her DCPS braille students experienced the same warmth and encouragement and total lack of negative judgment.  Janiece gave so much to countless blind and visually impaired students over the years.
— Penny Reeder, Montgomery Village, Md.